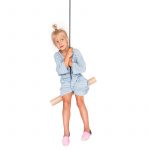 BALANCE SWING
Previous lowest price was €31.00.
Description
The kit includes: swing on a 4-meter long rope, screw with a dowel for mounting in the ceiling and a bag.
Your child will definitely love our swing! Playing on it is more demanding and exciting than on classic home swings available on the market. This one is definitely a return to the roots of our childhood. Who among us did not have the opportunity to swing in childhood at the pond?
The product is very simple and minimalistic, in our opinion –  "invisible" in the interior, which will certainly be appreciated by parents who value perfect interiors.
The kit comes with a bag so you can take it outside easily and find some unique place for swinging.
Remember that the product is not waterproof and cannot get wet.
We recommend a maximum load of up to 50kg (inside the paper sleeve there is a metal insert, which makes it very solid and durable). The swing is recommended for children from 5 years old.