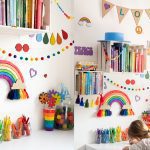 DIY RAINBOW / CLASSIC
€22.50
Description
Rainbow – the best-selling product from the DIY collection.
Ultimately, it serves as a beautiful decoration, but before your eyes enjoy this wonder, a bit of work awaits you!
It will be performed by a child from the age of eight. Younger children will certainly need an adult's help.
This task will take around 90-120 minutes – not a little, but remember that you don't have to complete it in one session.
Making a rainbow is not difficult, but schematic, so we highly recommend this activity to children who should work on concentration and patience, as well as a form of relaxation and tranquility.
The product is available in fourteen color versions!
The kit includes: a cardboard base, six pieces of crepe, 12 pieces of wool to make tassels, cardboard clouds, a paper needle and instructions.
The set does not include: scissors, needle and glue.
The instructional video can be found on our website in the "instructions" tab or on YouTube.